Benjamin Auzimour, Managing Director representing Saint James in North America, lives in New York. We had the pleasure of meeting him a few times in Quebec at Jourdain, but we wanted to let you know him a little more. Here is the portrait of a passionate man in 13 questions!
Benjamin, where did your career at Saint James start?
In the New York offices, on a beautiful winter morning, in 2014. I told our executives that I lived a 7 minute walk (truthful!) from the office and therefore, I would have no excuse to be absent, no matter the weather. I am glad that this argument had success!
How many employees are working with you in New York?
Seven, including the staff of our two stores.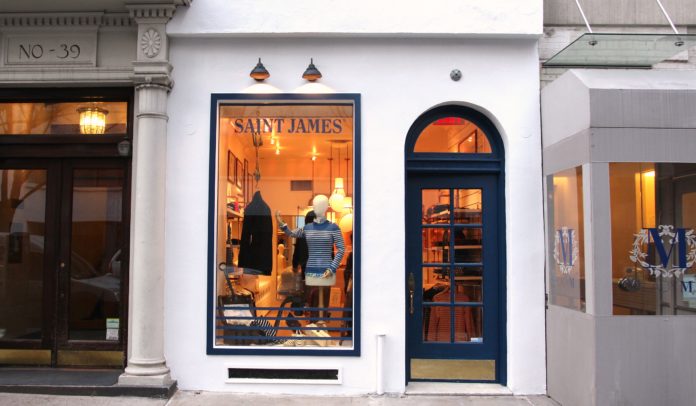 New York boutique, Upper East Side
What is the work atmosphere within your team?
I think it's a cultural trait for Saint James on both sides of the Atlantic: the team is very hard-working, involved and conscientious, concerned to do well, but also extremely nice. The relationships are simple, honest, respectful of everyone's opinion, and humor is never far away. In short, an ideal atmosphere to be happy and efficient at work, although it would be necessary to ask their opinion to each member of the team to see if they agree with this idyllic picture...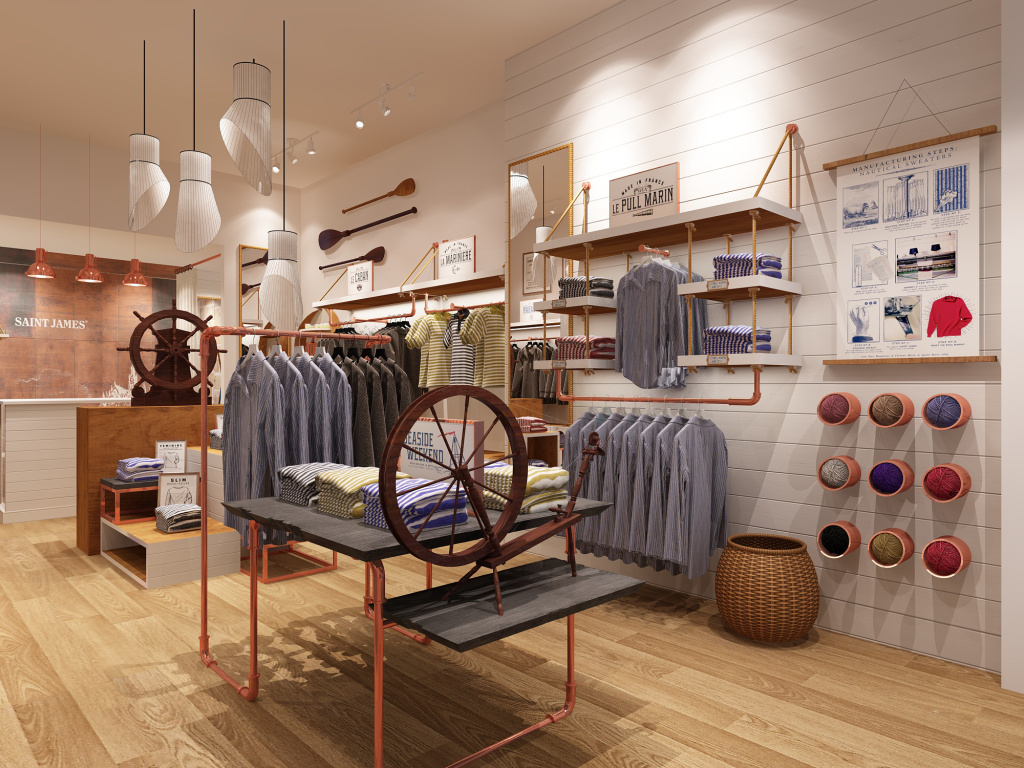 New York boutique, Upper East Side
What does a typical workweek look like for you?
Looking for a balance between different aspects of managing our small business: balancing the time spent on our various distribution channels (our resellers first, then our own stores in New York, and finally our website). Also, maintaining a strong bond with the employees of our parent company in France because one of the challenges of distance work is to understand each other well and to relay the needs of our local markets, since Quebec has very different needs from those of Florida or California, but at least as legitimate. Now, these differences are not obvious, and it is therefore up to me to clarify them to Saint James France so that our collections meet our different markets' expectations. I must say that Saint James, for a French company, is astonishingly good at listening and open-minded, which makes our task very rewarding, even pleasant.
Another stake is location: I need to be at our New York office to spend time on defining our strategy and being near our stores, but I also need to be with our customers, on trade shows or in their stores since it is the best way to understand their needs, to answer any questions they might have, and to assist in the development of their sales.
Finally, my agenda is subdivided into customer service topics, management of our staff, definition of our strategy, marketing, sales, finance, accounting, and ... changing bulbs or informing our stores on new guidelines on waste collection in New York! The joys of a small business.
How do you find life in New York?
I've lived there for 10 years now, I met my wife here, my little daughter Swann was born here... life goes well! This city is so huge, it can give you lots of energy. And when you feel that the city takes more energy than it gives, you can recharge in a quieter location of the city.
And fashion?
Much more open-minded and varied than in Paris.
How would you describe Saint James in 1 word?
Crew.
And in 2-3 words?
Quality, beauty, simplicity.
What are you most proud of professionally?
What makes me happiest, if not proud, is the feeling of harmony that we sometimes touch when all seems to work perfectly, as a beautiful orchestra: when our customers seem to be happy to work with us and feel supported by beautiful collections and reliable service, when our employees seem to be flourishing and motivated, when our suppliers know they can count on us, when Saint James France seems satisfied with our local representation of this precious brand. It is a feeling of fulfillment that nothing equals.
Which item from the Fall / Winter 2017 collection would you offer and to whom?
I would offer the Ste Cécilia jacket to my wife (a short, urban, feminine and strong interpretation of the peacoat that I like very much), the Ste Solene coat in its ocher version for my mom, and the great hoodie Timeo Layette for my little Swann. And sorry if it's three and not one, but you have to please everybody!
Ste Cécilia jacket Ste Solène coat Hoodie Timeo
What is your favorite Saint James item?
The items that will always be the most emblematic of our know-how are the beautiful pieces in wool (sweaters, pullovers, jackets, cardigans...). Knowing that each of them has passed into the expert hands of our menders to correct the possible imperfections of the knitting machines is important. I find reassuring the fact that a human and passionate eye still is a guarantor for the quality of these pieces, and this gives each one of it a soul. That is what moves me in what we do.
To be more precise, I feel relatively invincible when I wear the MATELOT sweater. This is my winter uniform, and I have it in several colors.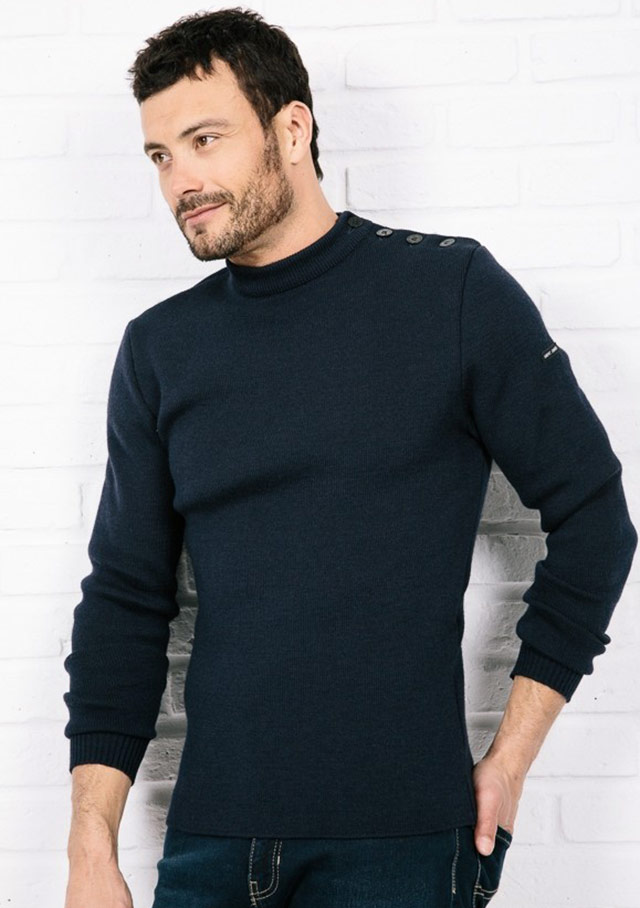 Matelot sweater
What is the Spring / Summer 2018 item that you are looking forward to with the most impatience?
It is not so much a particular item as the color group we call "buoy". A very beautiful orange that is declined in a very strong, coherent collection, thought as a whole, and it is very pleasant to look at it. I look forward to seeing this particular color group on the racks in 2018, because I know it will greatly please.
That said if I had to choose, and not avoid your question (!), it would be in the women collection: a dress named Margarita with popeline blouse sleeves and a very Saint James style with its striped cotton. The typical example of Saint James: sure and proud of its roots, but open to novelty and audacity.
In the men collection, a beautiful and very contemporary parka named St Priest, in its Lichen color version.
What item would you like to see in a future collection?
I am going to make a confession to you: I am too thin to wear our famous nautical t-shirt with dignity, and it saddens me a great deal! As I consider it a lost cause to adapt my body to our nautical t-shirts, I would like there to be a version of our striped t-shirts that I could wear... and I do not despair.