The word "chandail" in French refers to a sweater. This term comes from the term "garlic merchant" that Parisians used to designate merchants who often came from Brittany. In Brittany, the marine sweater made entirely of waterproof wool, such as the Saint James sweaters, was already, at that time, a piece of clothing considered functional and indispensable for these men from the western coastal region of France. Slowly, the term "garlic merchant" got transformed to refer to this sweater internationally and much more recognized and accepted than at the end of the 19th century.
Sweaters with distinct Norwegian patterns
Although it is knitted according to traditional know-how entirely in circles, the Norwegian sweater is very similar to the Fair Isle sweater (Scotland) or the Lopapeysa (Iceland). Some will say that the quality of the wool gave an advantage to the Norwegian sweater of the past. Today, the criterion that differentiates these types of sweaters is the traditional geometric patterns used. A purely aesthetic aspect, but it still respects the traditions of this garment.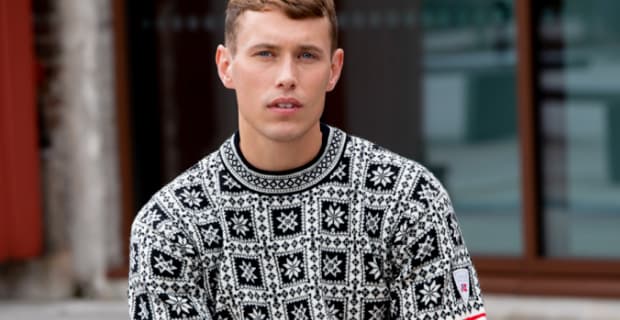 Image source: Dale of Norway
You may have already heard of more well-known pattern template names like the Setesdal, the Slalam, the Marius, the Cortina, the Tiril, the Tiril Snøkristall, the Fana or the Selbu. These are all distinct styles of typically Norwegian patterns. Dale of Norway makes sure to use one or the other of these motifs according to the need for original design: sometimes a historical motif for more elegant sweaters or a pattern resembling nature (floral motifs) for sporty-looking sweaters.
As indicated above, some seamstresses did not bother decorating the lower part of the Norwegian vest of yesteryear because it was, in any case, hidden by the trousers. As a way to embellish the solid colour, the "lusemønster" was sometimes used to add small motifs in the shape of "V" through the original knitting, all distributed as symmetrically as possible. These small patterns called "lice" are at the very origin of the name of a traditional and very emblematic model of Norwegian sweaters: the Lusekofte. This name can be translated literally as lice sweater.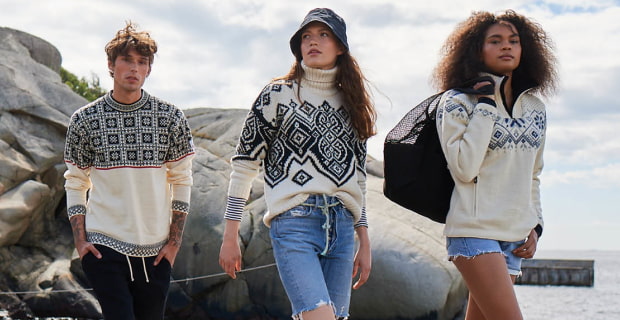 =
Image source: Dale of Norway